The building work at the new school is still steaming ahead with the main building now very nearly watertight with the brick work and timber work complete and just a bit more cladding to go onto the exterior walls. Inside, some of the stud work has progressed far enough for the underfloor heating to be started, in other areas the steel work for the interior walls is in place ready to be boarded. This is the Music Room with the Practice Rooms to the left and the Recording Studio to the right.
The large glazing panels of the curtain wall are now there to frame the view from the Learning Cafe.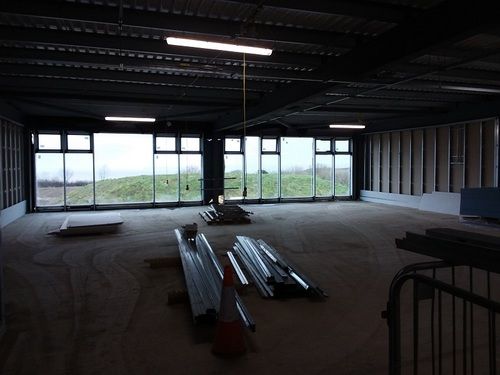 This is the Learning Village in the North East corner of the ground floor with the walls in place and the screed floor concealing the underfloor heating system already in place.
Aside from the main building the restoration and repair of the existing historical buildings is underway as we work on preserving them as an educational resource, and ensuring that they will be there for generations to come.